Search Help
Using the Advanced Search
Search Fields
Let's take a look at some search fields and how to use them: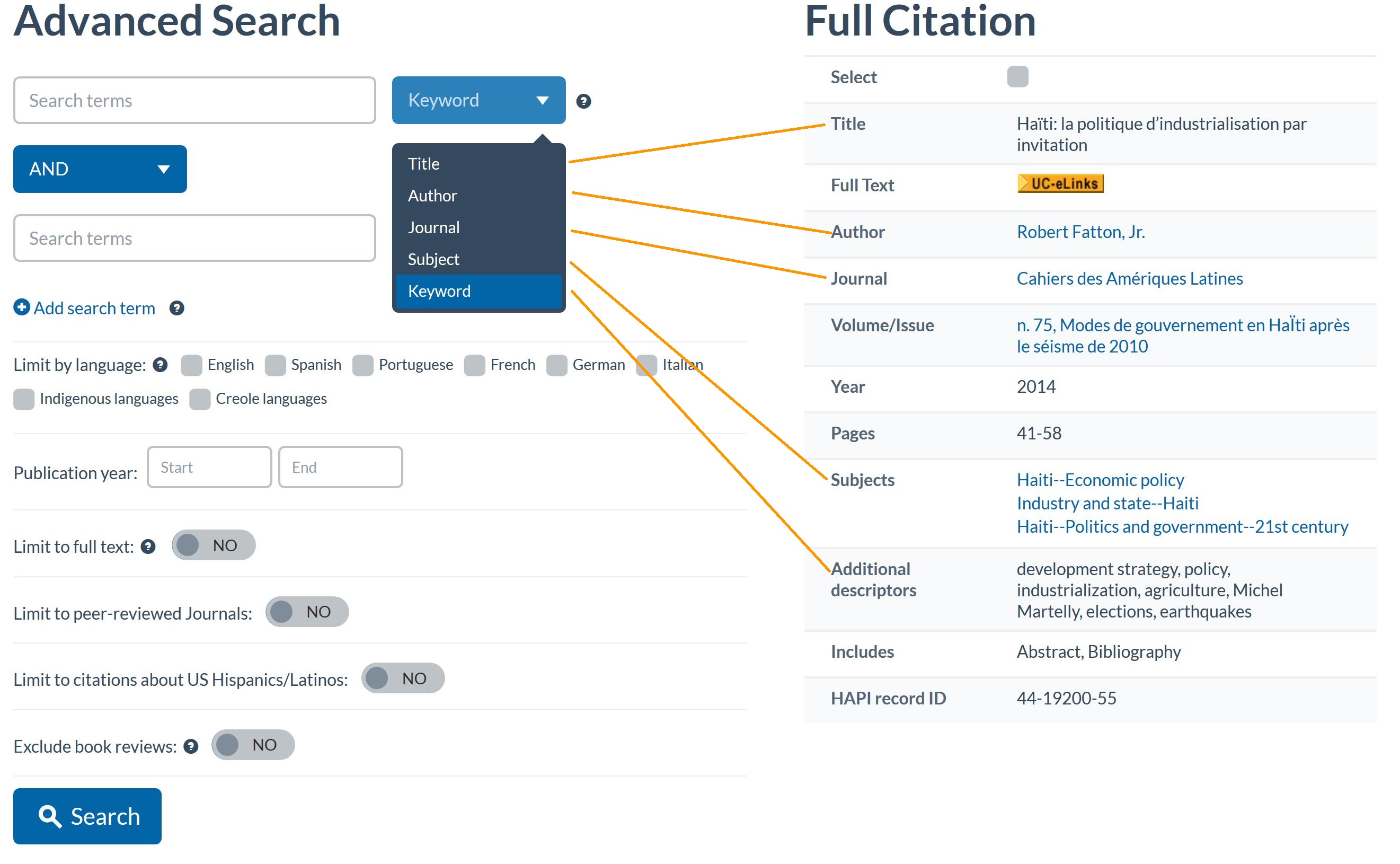 Keyword - Searches most fields in HAPI records (journal title, article title, authors, subjects, and additional descriptors). It's best to use this when you're just starting your research and want a very broad search.
Author - Searches for articles written by a specific person. You can also browse all author names in HAPI with the Browse Names option.
Note: this list only shows names of authors not names of people who are the subject of an article.

Title - Searches in the article title field and our Additional Descriptors field (because we often put English translations of important title words here).
Subject - Searches the Additional Descriptors field and HAPI Subject Headings. These headings describe the subject content of the article and may provide more targeted results. Use the Browse Subjects option to view a list of all HAPI Subject Headings.
Note: this searches English, Spanish, and Portuguese versions of the headings.

Journal - Use this field if you're searching for a specific journal. Use the Browse Journal options to see all the journals in HAPI or check out the Journals in HAPI page for more details.

See the Search Fields Help table for a quick reference guide on these different searches and how to best to use them.
Search Limits
You can limit your results by using the following advanced search options:
Publication date: limit to articles published before, after, or between specific years
Limit by language: only show results that are written in the selected language(s)
Full-text: limit to articles that have links to the online full text of the article
Limit to peer-reviewed journals: limit results to articles in journals that peer-review in their editorial process
Limit to citations about US Hispanics/Latinos: only show articles related to this population in the US
Exclude book reviews: limit to articles that are not book reviews (HAPI stopped indexing book reviews in 2001)
See the Search Limits Help table for a quick reference guide on using these limits.
Search Operators: "ORs," "ANDs," and "NOTs"
Search operators allow you to expand or narrow your searches using AND, OR, NOT.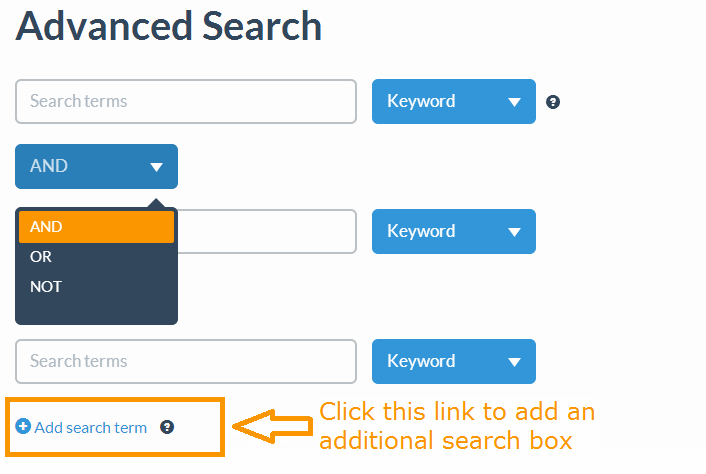 Broaden or expand your search results: separate your search terms with OR
Narrow or limit your search results: separate your search terms with AND
Look for citations that contain one of your search terms, but NOT the other.
Note: the default order of operations for a search in HAPI is:
1. NOT
2. AND
3. OR
For example, a search for:
This search will be interpreted as mexico AND (sex role NOT women). That is, articles will include the words mexico and sex role but will exclude articles that include the word women.